Massage Therapy in Brampton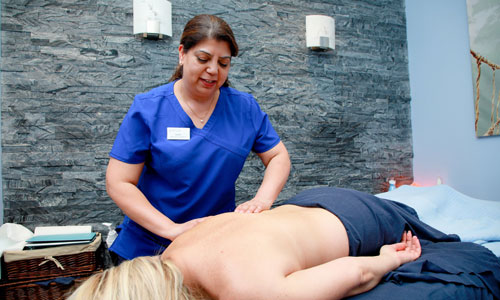 What is Massage Therapy?
Massage Therapist are registered healthcare professionals that are regulated by the College Of Massage Therapist Of Ontario. Massage therapist are highly qualified and well-trained individuals who use a wide range of hand on techniques to mobilize and manipulate the muscles, joints, tendons and ligaments of the body.
They aim to provide pain relief and assist in the recovery process of injured tissues and overused muscles in the body.
When should you see a massage therapist?
Massage Therapy has been shown to effectively manage and treat many musculoskeletal conditions. Below are some conditions that our massage therapists at Active Life Wellness Center can help treat:
Patella femoral Syndrome
Suffering from anxiety
Mild- moderate soft tissue injuries
Overuse Injuries
Sport Injuries
Illiotibial band syndrome
Plantar Fasciitis
Delayed onset muscle soreness (DOMS)
Venous insufficiency
And much more!
However keep in mind that you do not need to be suffering from pain to see a massage therapist. Just like Chiropractic Care, it can help manage and improve overall health and well being. Other incredible benefits of Massage Therapy include:
Pain relief
Overall relaxation
Reduced stress
Reduces anxiety
Improves/increases blood circulation
Reduces muscle tension
Increases overall mobility and flexibility
Decreases pain and inflammation
A quicker recovery from injury or motor vehicle accidents
And much more!
What To Expect During Your First Massage Therapy Appointment:
Before any treatment begins, you will be required to fill out an initial intake form. This form will gather information such as general history, pain location, and consent for massage therapy treatment. Your massage therapist will then have a brief consultation with you. During this time, we can answer any questions you have and address any of your concerns. Once your massage starts, your practitioner will check in with you to ensure your pressure and comfort levels. They will also perform passive stretching within your pain limit to various areas of your body to help increase overall mobility and flexibility.
Why Choose our Registered Massage Therapists?
At Active Life Wellness Center, our Massage Therapists are highly qualified and well trained individuals who have been in the field for over a decade. With a wealth of knowledge, they have the expertise to tailor their techniques to address your concerns. They continue perfecting their craft offering the latest massage therapy techniques to patients with a wide range of needs. In addition, they continue to engage in ongoing courses to learn and further advance their skills.
Like our other healthcare professionals at Active Life Wellness Center, our Massage Therapists take their time to address and understand your areas of concerns. They will focus their treatment sessions on your areas of concern to provide you with immediate relief. Our massage therapists offer a wide range of myofascial release techniques – however, they will always ensure that you are comfortable, especially with the amount of pressure that they are applying.
With your preferred massage therapists on-site at Active Life Wellness Center, our team is always available to take care of you. You can book your appointment with one of our Registered Massage Therapists here.
FAQ
Do I need to be a chiropractic patient to get a massage at your practice?
No. Though many of our chiropractic patients take advantage of our on-site massage, you do not have to be a current patient to schedule for a massage session.
How do I schedule an appointment for massage?
You can give our office a call. Our friendly front desk staff will book you an appointment with a massage therapist of your choice. If you're unsure as to who you'd like to book with, you can discuss who may be most appropriate for your case with a member of our team.
Do I have to undress for my massage?
No. You can choose to undress to your comfort. Most people leave their underwear on for a massage. Know that you will be draped the entire time so that you don't feel exposed. We understand the need for privacy and always respect you. If you don't want to undress, we can provide you with a gown to wear during your massage.
Should I wear any certain clothing to my massage appointment?
No. No particular clothing is necessary to wear to your massage. You can come straight from work or your daily activities.
Do you have a separate area for massage?
Yes. We have massage therapy rooms in our office. They're clean, relaxing and comfortable, making it the perfect setting to start your healing.
Same-Day Bookings
You don't have to wait to get in for massage therapy Brampton. Contact us today!
CONTACT US »


Massage Therapy Brampton ON | (905) 458-6677