Physiotherapy Clinic in Brampton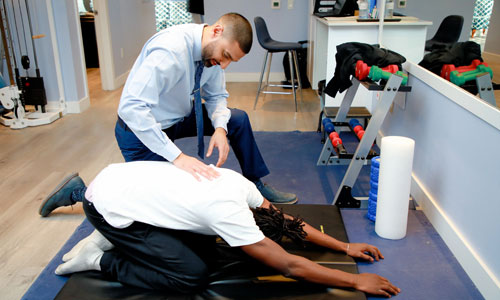 Physiotherapy in Brampton is available at ActiveLife Wellness Center. Our physiotherapists have years of advanced training, as well as post-graduate and ongoing educational courses to provide exceptional service. We utilize a wide range to physiotherapy techniques including:
Dry Needling
Neuro-Muscular re-education
Therapeutic Exercise
Manual Manipulation Therapy and More!
Our objective is to provide custom-tailored health care for each of our patients to provide an individualized and comprehensive approach to treatment. Additionally, we promote using safe methods to quickly help heal your injuries while strengthening your body to avoid reinjures in the future.
What Are Physiotherapists?
Physiotherapists are medical professionals who have undergone university coursework and training to obtain an in-depth knowledge of the skeletal and muscular systems, as well as body movement to further understand and develop effective treatment methods for injuries. Furthermore, physiotherapists not only treat the symptoms of the injury but the injury itself for proper healing and recovery.
At Active Life Wellness Center, we can work with you and your health care goals to ensure you receive the care that you need.
Why Choose a Physiotherapist in Brampton?
Our Brampton physiotherapists are dedicated to each of our patients from their initial consultation until they are fully recovered and healed. We also take pride in providing ongoing comprehensive care that is tailored to fit our patients' unique and specific needs for the best quality treatment.
In addition, our physiotherapists are constantly receiving ongoing educational courses and training to provide the latest treatment techniques and stay ahead in the field of physiotherapy.
Our physiotherapists in Brampton have obtained or are in active pursuit of the highest level of training in this field for special designation as an FCAMPT (Fellowship of the Canadian Academy of Manipulative Physical Therapists).
At Active Life Wellness Center, our physiotherapists take the time to uncover the root of your injury instead of just treating the symptoms. Taking this approach is essential for you to fully heal and recover.
Once your condition is diagnosed, we then go about using the most effective and appropriate treatment methods, as well as education, to help you recover from your injury and avoid future injuries.
You will always get dedicated one-on-one care and hands on treatment from our physiotherapists. We do not rely on assistants or aides or overbook appointments to guarantee our patients get the individualized attention they deserve. We also believe that by spending quality time with each of our patients, it will help encourage and motivate them to participate more actively in their treatment plan for a speedier recovery.
Our Brampton office location is easily accessible on the corner of Torbram Rd and Steeplebush Ave. We are ideally located across the street from the Brampton Transit Torbram/Steeplebush bus stops.
What Types of Conditions and Injuries Are Treatable with Physiotherapy?
The physiotherapists at Active Life Wellness Center have helped people treat a wide range of injuries and medication conditions. We also treat professional and recreational athletes, dancers, accident injuries, work injuries, surgical patients, and more. Essentially, if you are in pain and discomfort, we can help.
Some of the more common types of conditions and injuries treatable with physiotherapy include:
Neck Pain
Shoulder Pain
Knee Pain
Joint Pain
Auto Accident Injuries
Work Accident Injuries
Sport Injuries
Headaches
Arthritis
Degenerative Disc Disease
Tendonitis
Carpal Tunnel Syndrome
Stress Fractures
Chronic Pain Conditions
Pre- and Post-Surgical Rehab
Sprains
Strains
Rotator Cuff Injuries
Knee and Hip Replacement Rehab
Pinched Nerves
Sacroiliac Joint Dysfunction
Whiplash
Pre- and Post-Natal Pain
Plantar Fasciitis
Tennis Elbow, and More!
For further information about how physiotherapy can help treat painful conditions, please feel free to contact us directly. We are happy to answer your questions about the different types of conditions and injuries we can treat using physiotherapy.
What Is Corrective Exercise and Why Is It Part of My Physiotherapy Treatment?
Depending on your medical condition or injury, our physiotherapists may prescribe corrective exercise as part of your individualized treatment plan. Corrective exercise targets the muscles around the location of the pain or injury. Together with other forms of treatment, corrective exercise helps speed recovery, strengthen muscles, and decreases the likelihood of future recurrence of pain and injury. You work one-on-one with your physiotherapist to learn each exercise and how to perform it safely and correctly.
As you progress, your physiotherapist will review your recovery objectives and adjust your exercises as needed, as you become stronger. This approach not only helps you recover faster but will have you feeling better sooner too. Not to mention, when exercise is part of physiotherapy treatment plans, it helps promote long-term recovery success.
Ongoing corrective exercise, as part of your treatment plan, is often covered by your health benefits. For more information, do not hesitate to contact us directly.
What If I Tried Physiotherapy in the Past and It Was Unsuccessful? Why Try It Now?
Have you tried physiotherapy in the past, and it just did not deliver the results you thought it would? Maybe you are having recurrences of the same pain and injury? Did you follow all corrective exercises but did not see any success? The reason physiotherapy did not work in the past could be for a variety of reasons.
Maybe your treatment plan was not long enough?
Maybe the provider only treated your symptoms but not the underlying cause of your pain or injury?
Maybe the exercises prescribed were not the best for your condition?
Maybe you did not get sufficient one-on-one time?
At Active Life Wellness Center, we know it can be frustrating when treatment is not proceeding how it thought it would. Our physiotherapists have worked with patients who have tried physiotherapy in the past with mixed results using our unique approach and individualized care and treatment.
Using our advanced experience and the latest training methods, these patients are surprised when our approach to physiotherapy works for them. We help them recover from their injuries, painful conditions, and more with long-term success.
Our Brampton physiotherapists approach each patient and their condition individually. We take the time to access the entire body to determine the underlying causes of the condition. We know that one type of pain or discomfort in one region could actually be the result of another problem in another region of the body.
Taking this approach allows us to focus on the actual cause of the problem and develop a customized treatment plan for successful results. Another reason we are successful is we work together as a team.
Our chiropractors, massage therapists and physiotherapists work together to provide the care and treatment our patients deserve. We also share information with one another to ensure your treatment plan is consistent whether you are visiting us for physiotherapy, massage therapy or chiropractic care treatment in Brampton.
Together with our ongoing training and experience, we can help you recover from injuries and painful conditions that have not been treated successfully in the past. We would love to help you and give you the care and attention you deserve. Contact us to schedule a consultation appointment now!
Do You Offer Insurance Direct Billing?
Active Life Wellness Center offers insurance direct billing for most health benefit plans. To find out if your insurance can be direct billed or for further questions, please feel free to contact us directly at (905) 458-6677 today!
Receiving Physiotherapy treatment at our facility has many more benefits such as:
Improved overall lifestyle
Pain management
Improve mobility
Ability to return to work
Ability to return to your favorite sport /hobbies
Improved overall sleep
Prevention of injuries from occurring in the future and prevention of re-injury
and many more!
Contact our team now to book your assessment for physiotherapy Brampton! We have same-day visits available.
CONTACT US »

Physiotherapy Brampton ON | (905) 458-6677