Active Life Wellness Center Reviews
What Our Brampton Patients Say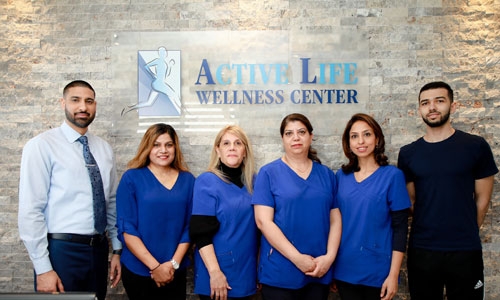 At Active Life Wellness Center we love when patients share with us their feedback and comments after chiropractic care. Please read our patient testimonials below to see what other people have achieved through their tailored treatment plans with us.
Share your stories too! Click here to send us your feedback so that we can help to spread the word about the benefits of chiropractic treatments in Brampton at Active Life Wellness Center care.
For more information, or to schedule an appointment contact us today.


Exceptionally Commendable
On my first visit, I met Dr. Sodhi. I have been to other chiropractors/physio clinics in the past but so far none can be compared to this. I am saying this because the way Dr. Sodhi listened to my problem and chalked out a therapy plan to fix the issues was exceptionally commendable. He was not like others who jumped right into giving you chiro sessions. Indeed, he follows a proper strategy, diagnose you very well and has a plan to solve your chiropractic needs. I am looking forward to my sessions as planned. Thank you Dr. Sodhi.
– Bhagat A.
Highly Recommend
Excellent support. Appointments are flexible, environment is super clean and fresh. Friendly staff and professional service regarding therapy and chiropractic treatment which has been invaluable to my recovery from knee injury. Highly recommend.
– Cheryl R.
I Felt Relief
Dr. Sodhi and his staff were excellent. I was involved in a motorcycle accident and was feeling complications from the accident. After meeting with Dr. Sodhi, I felt relief that my issues can be corrected with chiropractic care, physiotherapy, massage and effort from myself with stretching and exercising. The journey is a long one but slow and steady wins the race! I'm looking forward to become healthy and happy in the long term. Thank you Active Life Wellness Center and the team!
– Vishal S.
Great Group of People
I got treatment from Simran and I am very happy with her. I have referred few more of my friends and family members to her. Everyone likes her service. Rest of the staff is very friendly too. Excellent service!
– Richa B.
Thank You For Helping Me
It was a Friday afternoon, I was in so much pain. I know you close early on Fridays, but you still took me in. Thank you for helping me before closing for the day! All the staff are wonderful!
– Nichole G.
Great Group of People
I'm so glad I decided to come to your office. It was a very professional experience and I'm very pleased with all the people who I dealt with. You've got a great group of people working here. I was pleasantly surprised and will be referring friends and family to you.
– Neha A.
Amazing Doctor and Staff
Dr. Sodhi and staff are so amazing!! Seriously Dr. Sodhi is so nice–our first meeting he made my mother and I feel so comfortable and insured us that him and his staff with maximize their resources as much as possible in order to help us! Seriously this is the place to go.
– Sukdav M.
Impressed With Quality Of Care
Dr. Sodhi was incredibly helpful and knowledgeable during my visits. I was impressed with the quality care I received at this clinic. After having received my treatment, I can attest that Dr. Sodhi and his team have provided me with the energy and ability to continue living a rich and active lifestyle!
– Gursimer G.
Well Ran Practice
This is a very well ran wellness center I will recommend that everyone that I know that needs help with rehabilitation go there .Keep up the good work.
– Danny R.
Great Service
I got great help and service. I'm sure that I will get better in no time. I would recommend this place to anyone I know!
– Jerome D.
Patient, Pleasant, Knowledgeable & Funny
My first visit was very welcoming. The receptionist was very nice and friendly. Dr. Sodhi made my visit relaxing and I am confident that my issues will be resolved by the end of my treatment. Thank you Dr. Sodhi for explaining everything thoroughly to me. You are very patient, pleasant, knowledgeable and funny. Your approach to patient care is excellent.
– Rita A.

Active Life Wellness Center Reviews | (905) 458-6677