Meet Dr. Ravin Sodhi
Why I Became A Chiropractor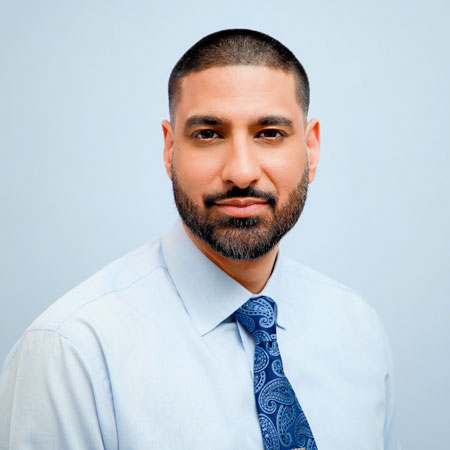 "While growing up I was very much always interested in health care though it wasn't until I attended a health seminar on alternative medicine that chiropractic was brought to my attention in an informative manner. I had been skeptical at first about the field of chiropractic. However, the presentation given by professionals in the field intrigued me and inspired me to go to the nearest chiropractic college to learn more. At that point I was fortunate enough to have an admissions counselor at the college eagerly address all my questions. I was given a comprehensive tour of the campus and clinic and was able to observe how the classes ran and got to sit in on some labs and lectures allowing me to have an in-depth perspective on what this field had to offer," says Dr. Sodhi.
It was there where Dr. Sodhi received his very first chiropractic adjustment. The adjustments were what made Dr. Sodhi a believer. Dr. Sodhi explains, "The first adjustment was like nothing I had ever experienced before, its almost like the lights within my body all turned on, and with continual care I have felt my mobility increase and my overall health has been at its best allowing me to excel in many difference aspects of my life.
Beginning Chiropractic College
Dr. Sodhi began his pre-chiropractic education at Sacramento State University in California where he studied the basic sciences. After completing his study there, he was accepted at Life Chiropractic College West located in Hayward, California where he received his doctorate of chiropractic (D.C.) in the summer of 2006. He practiced in California for 2 years and shifted to Canada in 2008 where he established Active Life Wellness Center in Brampton Ontario.
Outside of the Office
Dr. Sodhi continues to read, take seminars and pursue clinical excellence by keeping up with any information that might be helpful to his patients. Dr. Sodhi strongly believes in giving back to the community so he spends time giving health talks at various schools and businesses and helps with underprivileged children at the peel sports and cultural academy. He is also available to speak to your company, school, or club on health related topics such as back injury prevention, workplace ergonomics, etc..and other associated conditions that can be relieved and prevented through education.
Questions? Concerns? Give Active Life Wellness Center a call now and put your mind at ease.

Dr. Ravin Sodhi | (905) 458-6677