De Quervains Tenosynovitis Treatment Brampton
What is De quervain's Tenosynovitis? What are the symptoms?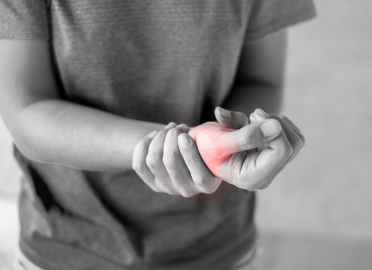 DeQuervain's Tenosynovitis is a condition that occurs when there is an irritation of tendons that are situated on the thumb side of your wrist. This can happen use repetitive overuse and stress. Activity's such as texting/typing on your phone, playing video games, participating in sports such as tennis and golf, weight lfiting and even while carrying your baby can irritate the related tendons and cause inflammation to develop. The more inflammation that develops, the more pain one can experience.
Common Symptoms:
Pain localized around the base of the thumb and or wrist
Pain/discomfort while grasping items or pinching with your thumb
Pain in the thumb while lifting items
Locking sensation in the thumb with movement
Swelling/redness around the base of the thumb
Physiotherapy and Chiropractic Treatment for DeQuervain's Tenosynovitis
Our physiotherapist or chiropractor will first conduct a through examination at Brampton Physiotherapy & Wellness Centre to determine whether or not you have DeQuervains Tenosynovitis. If you do, they will create a treatment plan addressing your specific needs. Your treatment can include a combination of manual therapy, soft tissue release, stretches and strengthening exercises, acupuncture, therapeutic ultrasound and kineso taping. They will also provide you with education in regard to proper positioning of the wrist while engaging in activities.
What you can do at home:
They are many remedies that you can do at home in conjunction with physiotherapy treatment to help manage your signs and symptoms.
Applying ice to the area where you feel pain/soreness
Preforming daily exercises to promote range of motion, engaging in stretches and strengthening exercises
Avoid engaging in activities that aggravate your pain
Wearing a prescribed brace: Our physiotherapist/chiropractor can advise you to wear a specific brace to help the positioning on the related joints.

Chiropractic Care Brampton ON | (905) 458-6677