Back Pain Treatment Brampton
What Is Back Pain? How Does It Develop?
Several people suffer from back pain – whether that is upper back, mid-back, and even lower back. In fact, it is one of the most common injuries that is treated by our staff at Brampton Chiropractic and Physiotherapy Centre
They are many reasons as to how one can develop back pain. Some of these reasons include:
Poor posture
Repetitive movements
Repetitive sedentary desk/seated work
Low participation in physical activity/sedentary lifestyles
When you suffer from back pain, the vertebrae in the spine (spinal bones) often have abnormal movement patterns. This inhibits the functional range of motion (movement) of the spine – making it difficult for individuals to carry out their activities of daily living, pain and discomfort free. If back pain is not treated or managed in the initial stages, it can eventually become a morechronic/severe condition with ongoing pain and discomfort.
If you suffer from back pain, it is important to get assessed by a medical healthcare professional as soon as possible- whether that be a Chiropractor or Physiotherapist. Early treatment can lead to a faster recovery, prevent symptoms from worsening, and halt further injuries from occurring.
What Are Common Symptoms Of Back Pain?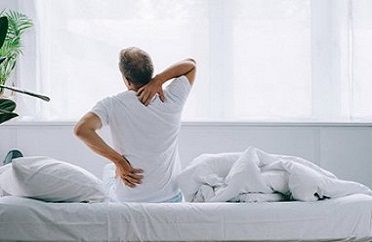 Symptoms can vary person to person; however, common symptoms of back pain can include:
Pain in the neck, mid-back, or low back
"Pressure" sensation in the shoulders
Muscle aches
Pain that worsens with movement such as bending, lifting and or walking
How Is Back Pain Treated?
Chiropractic and Physiotherapy treatment has been shown as an effective non-invasive treatment measure to help alleviate your back pain and improve overall mobility. Depending on the findings of your assessment, the Chiropractor and or Physiotherapist at our facility may work in together for your treatment plan.
What Types of Exercises Can You Do for Back Pain?

Child Pose
Start this stretch by sitting on your knees on a comfortable surface. Begin by placing your arms extended in front of you and slowly reach forward until you feel a comfortable stretch on your back (as shown on the image on the right). Hold this position for 20 seconds. Rest and repeat it 3 times.
Trunk Rotation Stretch
To complete this stretch, start by lying on your back with your knees bent close together and place your arms out to the side. Then, slowly drop your knees towards one side and turn your neck so that you're lookingin opposite direction that your knees are (as shown in the image on the right). You should feel a comfortable stretch on your lower back.
Hold this position for 20-30 seconds and switch towards the other side. Repeat 3 times on each side 2.
Call us today and will book you in right away. In addition to our daytime hours, we are also open on Saturdays and have late evening hours available.
CONTACT US »

Chiropractic Care Brampton ON | (905) 458-6677