Auto Accident Care in Brampton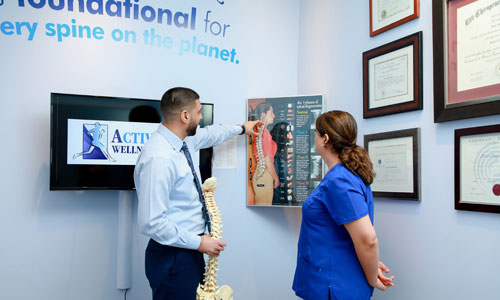 At our chiropractic treatment clinic, we offer rehabilitation services for those who have been involved in any kind of motor vehicle accidents. If you've been in an accident, there are symptoms you may not feel right away. You might start to develop stiffness, discomfort and pain weeks later.
Why Do You Need to Be Checked?
Some visit their family doctor or the hospital after an accident. Others write it off and assume they're fine. Both of these choices, however, don't involve an examination of your spine and your entire body from head to toe. Urgent care is designed to give you a prescription or to refer you to a specialist, not provide any form of treatment.
At Active Life Wellness Center we will conduct an in-depth comprehensive assessment of your auto collision to assess the adverse effects on your body. We will then create a treatment plan according to your needs. Everyone's treatment services vary; however, they can include physiotherapy treatment, chiropractic care, and massage therapy treatment.
What you should do if you're involved in a motor vehicle accident:
When you are involved in a motor vehicle accident, we understand that it can be extremely overwhelming – for both yourself and the other driver. That being said, we have provided a list of 12 important steps to take that will help guide you after you have been involved in an accident. These steps include:
Call 911 if you are able to
Do not admit responsibility
Take pictures or videos of the scene
Exchange information with the other driver
Find if they were any eye-witnesses
Report the accident to the police
Inform your insurance company
Consider an ambulance
Seek medical help
Go to a walk in clinic
Write down the details
Report to your insurance company
Your Licensed Practitioners:
As licensed practitioners, we deal directly with both auto and private insurance companies. This includes submitting treatment plans and receiving direct payments. We're in good standing and comply with all mandates to provide services to our patients.
Direct Billing Services:
If you've been in an accident, we understand that it can be overwhelming to have to deal with the paperwork. With a wealth of experience in navigating motor vehicle accidents, we will make the process as seamless as possible for you so you can focus on your journey to health. With that said, we are able to bill directly to some insurance companies. A few insurance companies that we direct bill to include:
Canada Life
Claim Secure
Desjardins
Industrial Alliance
Johnston Group
Manulife Financial
Sun Life Financial
Manion
Call Us Today
Are you ready to start your recovery? Contact Active Life Wellness Center now to book your assessment for motor vehicle accidents Brampton! Late opening hours are available.
CONTACT US »

Auto Accident Care Brampton ON | (905) 458-6677