About Us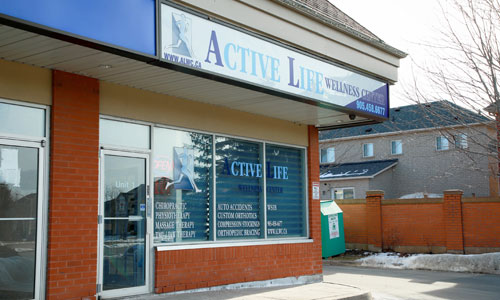 Active Life Wellness Center is a multidisciplinary clinic found in the heart of Brampton. Our team of Chiropractors, Physiotherapists, Registered Massage Therapists , and Kinesiologists, work in collaboration to provide you with best the best possible comprehensive and patient-centred care possible.
Active Life Wellness Center is more than just a physiotherapy and chiropractic clinic….we are one exceptional team! Our practitioners are highly motivational, positive, professional, compassionate and have a substantial amount of knowledge – all of which make up a great team! These are the key qualities that make a team remarkably successful.
In addition, our team is very committed with providing patients with the contentment they require and deserve. In fact, every treatment plan that our healthcare providers create are designed for each individual patient – ensuring that it is solely based on your specific goals and needs. We will address the root cause of your problem for a long-term correction.
We take pride in our own work and are always conscientious of the care that we are providing!
Below is a list of services that we offer at our clinic:
Specialized care and services for motor vehicle accidents, WSIB and extended health care
Direct Billing to insurance companies
Compression Stockings
Prehab and Post-operative Care
And much more!
Our Mission
At Active Life Wellness Center, our mission is to ensure that you are fully involved in your care- this means, involving you in all decisions about the care that you are being provided with. This assures that we are putting our patients first and treating everyone with respect and dignity.
We want each one of our patients to achieve optimal health without the side effects of drugs – that is why we offer drug-free and non-surgical solutions. We love seeing families and individuals benefit from what we do!
It All Begins With a Dream

Dr. Ravin Sodhi was born in Toronto and raised in California. He pursued his doctorate program from Life Chiropractic University in 2006, where he was excited to learn about the human body and the power of natural healing, and more importantly the vital role that spinal health has on the body.
After graduating, Dr. Ravin Sodhi returned to Canada in 2008 and opened Active Life Wellness Center for chiropractic care & treatment in Brampton. He chose Brampton because it is considered one of the fastest growing cities in North America and for its diverse multicultural population.
With over 15 years of experience, Dr. Sodhi continues to train and study in order to serve his community while pursuing his passion to help people achieve their health and wellness.
Individual Care That Makes a Difference
We are rewarded by our patients' success stories! Knowing we're making a difference and contributing to our community is what keeps us motivated each day. It's our belief that chiropractic is the greatest healthcare offering in the world.
There is no cookie-cutter approach to care at our practice. We look at each person as unique and create plans based on individual needs. You can feel confident that our recommendations are tailored to help you reach your health goals.
MEET DR. SODHI »
The Many Types of People We Help
Our patients are diverse, covering a broad array of concerns. Some people were unable to walk into our practice and are now back to work and fully functioning. Dr. Sodhi's first encounter with chiropractic was when he got an injury playing ice hockey. He assists many young kids involved with athletics to get back to playing their sport.
Others have experienced a recent injury and want to have it taken care of immediately. Patients also seek our assistance when they've suffered from chronic pain for years. They have tried other avenues without success and come to us because they've heard a family member or friend talk about the results they got from our care. No matter what your condition is, we'll be happy to evaluate you and determine if we're the right place for you.
Same-Day Visits
You don't have to wait to get in for an appointment. Contact our team now!

About Active Life Wellness Center | (905) 458-6677